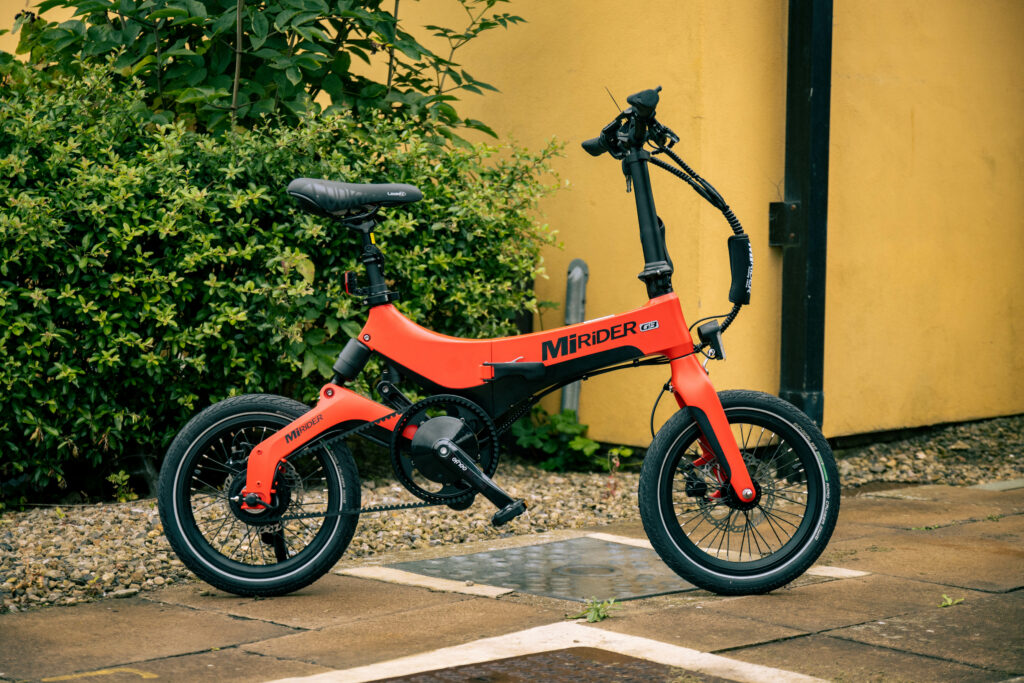 In a world where innovation meets convenience, the MiRiDER GB3 E-Bike stands as a beacon of technological advancement, performance enhancement, and stylish design. Unleash the power of a three-speed gearbox, experience the seamless efficiency of a maintenance-free belt drive system, and embark on journeys with newfound convenience and style. Join us as we dive into the remarkable features that define the MiRiDER GB3 E-Bike, reshaping the way we perceive urban mobility.
Prepare to revolutionise your e-bike experience with the MiRiDER GB3's groundbreaking three-speed gearbox. Custom-engineered with a proprietary drive belt system, this trio of ratios opens up a world of riding possibilities. Engage 1st gear for conquering steep climbs or cruising without assistance. Shift into 2nd gear for your everyday rides, and effortlessly glide in 3rd gear for carefree cruising, even above the 15.5 mph cut-out limit. This game-changing gearbox ensures your ride is perfectly tailored to your needs, making every journey a delight.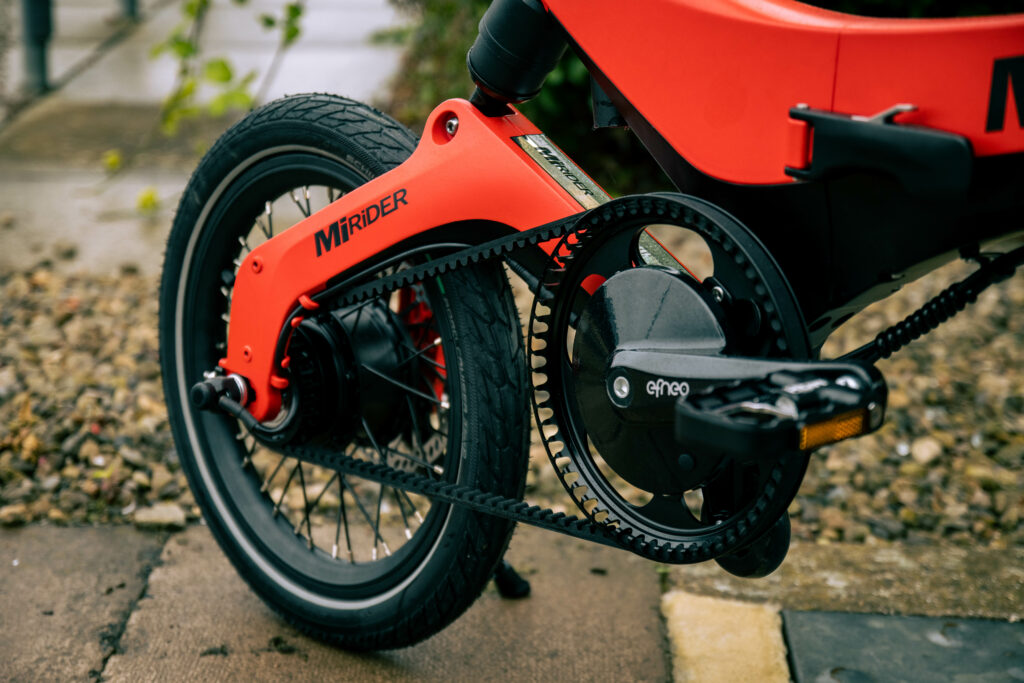 Bid farewell to the hassles of oil and grease with the GB3's maintenance-free belt drive system. This innovation transforms your riding experience, offering a smoother, quieter, and remarkably efficient journey.
Crafted with both style and practicality in mind, the MiRiDER GB3 pedals redefine convenience. Folding your bike becomes a breeze, thanks to these beautifully designed pedals that seamlessly blend aesthetics and weightlessness. Say hello to hassle-free folding and a touch of elegance that complements your riding experience.
Experience the perfect blend of precision, power, and smoothness with the MiRiDER's exceptional brakes. These brakes enhance your control, ensuring seamless stops, confident maneuvers, and unmatched modulation. Whether navigating city streets or conquering challenging terrains, you'll have the confidence to handle any situation that comes your way.
Empower your journeys with the new 7AH / 252WH battery. Crafted using genuine OE Samsung cells, this high-quality battery is discreetly integrated within the frame, ensuring optimal weight distribution and balance. Swift access for separate charging or on-the-go swapping is facilitated when the bike is folded, complete with a secure locking mechanism. With this battery and the efficient new motor, you can expect an impressive assisted range of up to 45 miles, opening up a world of exploration.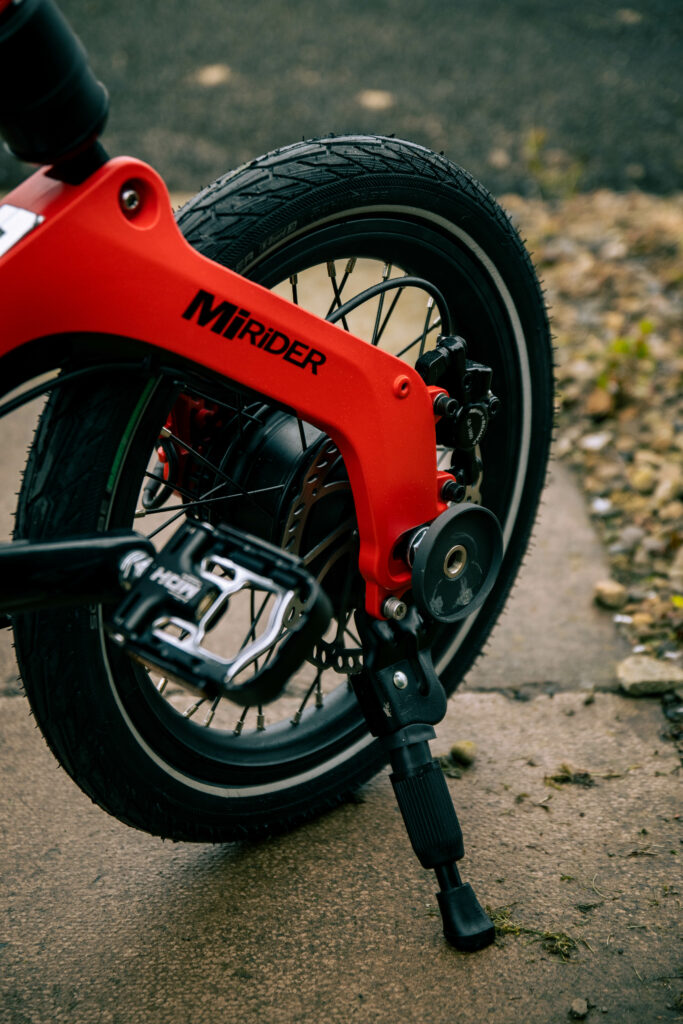 The MiRiDER GB3 boasts an all-new 250-watt rear-hub motor designed to elevate your pedalling experience. Seamlessly assisting you up to speeds of 15.5 mph, this upgraded motor performs more efficiently and offers an incredible 25% increase in torque compared to its predecessor. Say hello to a zippier ride and an extended range, promising unforgettable journeys.
The MiRiDER GB3 puts you in the driver's seat with its latest sine-wave controller. Enjoy a ride that's smooth, responsive, and powerful every time you venture out. Need an extra push? Engage the thumb throttle, offering electric assistance up to 4 mph (when not pedalling) and a boost up to speeds of 15.5 mph (when pedalling). Enhancing your control experience is a larger Full Colour Display Screen equipped with a USB charging outlet, ensuring you're always connected and informed on your rides.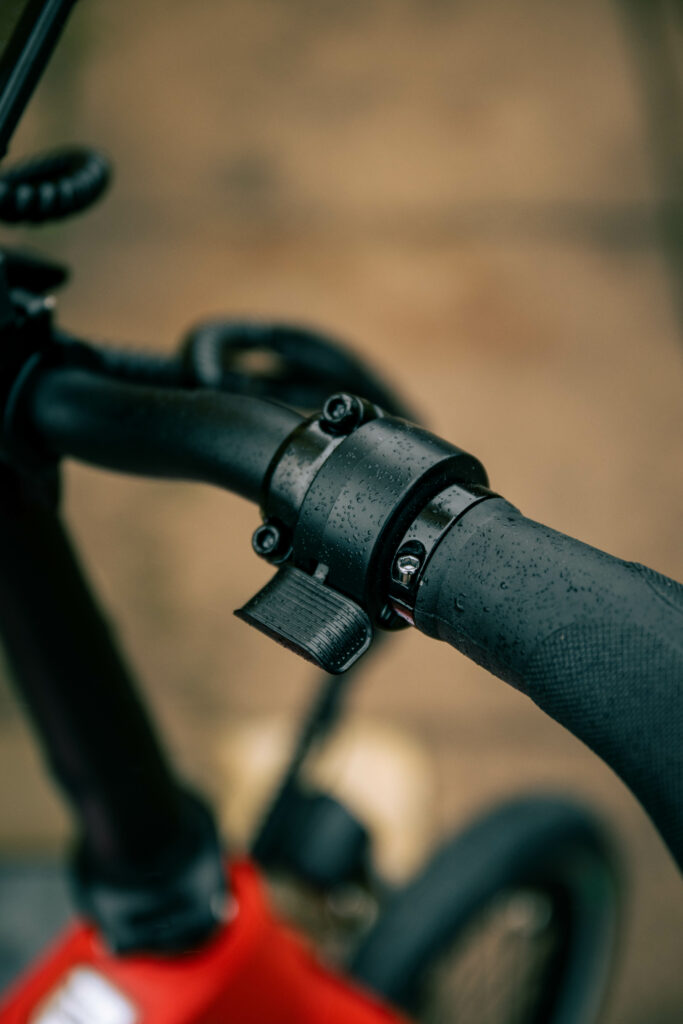 The MiRiDER GB3's innovative die-cast frame breaks away from traditional welding processes, resulting in a sleek, streamlined chassis that exudes envy-inducing style. Renowned for its sturdiness, this frame is crafted from aircraft-grade magnesium alloy, offering impressive lightweight properties while ensuring exceptional shock and corrosion resistance. The MiRiDER GB3 is a true testament to the marriage of style and durability.
Experience a ride like never before with the MiRiDER GB3's pedal assistance. Offering five varying levels of support, this e-bike is engineered to provide an effortless, responsive, and powerful journey every time you pedal. For those challenging inclines, engage the thumb throttle, providing an extra burst of electric assistance. The advanced sinewave controller ensures your ride is not only powerful but also exceptionally smooth and responsive, making every journey a joy.
The MiRiDER GB3 E-Bike revolutionises urban mobility, reshaping the way we perceive convenience, style, and performance. With its remarkable three-speed gearbox, maintenance-free belt drive system, elegant design, and seamless control features, this e-bike is a true game-changer. Elevate your ride to new heights, as you conquer city streets and explore uncharted terrains with confidence. Embrace the future of urban mobility with the MiRiDER GB3 E-Bike and experience a ride that's as innovative as it is exhilarating.
NOW AVAILABLE at Team Cycles -> bit.ly/3m2122n